Elegantly Robust Wood-Look Tile in Akron, OH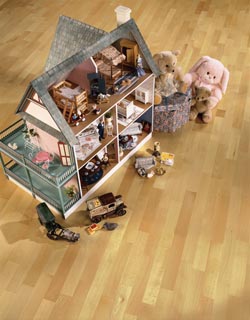 Refresh your favorite spaces with new flooring from Northport Flooring America. At our showroom, you will find a stunning selection of wood-look tile. In Akron, OH, we help homeowners plan and carry out their projects with confidence. With our extensive catalog, personalized approach to service, and professional installation solutions, transforming your home has never been easier.
The Wood-Look Advantage
Now, there is no need to make compromises between everyday durability and elegant visual appeal. With wood plank porcelain and ceramic tile, you will attain both. This category of flooring is made from naturally sourced clay. The manufacturing process gives it the look and texture of solid hardwood.
By combining the toughness of tile flooring with the elegance of natural wood, ceramic and porcelain are fine additions to any room. It is available in the appearance of popular wood species, such as pine and mahogany. Your interior design options are virtually limitless thanks to this flooring type.
One of the standout features of this porcelain and ceramic wood tile is its resistance to water. As a dense flooring material, tile does not warp, shrink, or change shape when exposed to moisture. Thanks to this flooring's toughness, it goes well in places like the kitchen, bathroom, and basement.
The water-resistant properties of this flooring also extend to everyday ease of maintenance. Wood plank ceramic tile and its porcelain counterpart are finished with special glazes that repel spills, dirt, and dust. As a result, you will find these flooring types simple to clean. Now, you can save your time and energy for doing the things you love.
A little-known benefit to wood-look tile is its ability to retain and disperse heat. It helps keep indoor temperatures manageable as outdoor temperatures change with the seasons. You can also add an underfloor heating system to tile flooring to keep your home warm and comfortable through the colder months.
Covering Your Remodeling Plans
Whether you are re-flooring a single room or your entire interior, you have our total support. Our showroom features products from prominent brands, so you can view samples of hundreds of ceramic and porcelain wood tiles and find the flooring that best meets your needs. If you aren't sure which direction your project should go, we're here to help. Our associates are knowledgeable about flooring and interior design. We facilitate consultations that help turn your ideas into reality.
The strength and beauty of new wood-look tile rest on a successful installation. Let us handle the hard work so you may enjoy your new flooring with complete peace of mind. Our in-house team of professional installers handles re-flooring projects of any size. We work quickly and carefully to ensure your new flooring looks great and lasts long.

Contact us to learn more about our selection of wood-look tile. Our showroom serves Akron, OH, including Cuyahoga Falls, Stow, Hudson, Fairlawn, and the surrounding area.