Carpet Flooring in Akron, OH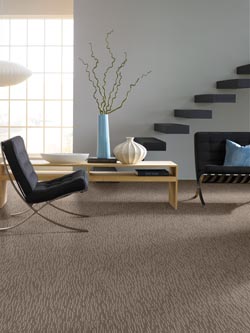 It's easy enough to overlook the flooring when you walk into a room and see it as simply another part of the décor. But when that carpet is thick, luxurious, and beautiful, it's hard to pull your glance away. Not only that, it's a treat for the feet as well because carpet is just as nice to walk on as it is to look at. The carpet flooring in Akron, OH, that you find at Northport Flooring America makes any room stand out as a beacon of style and substance.
The Many Benefits of Carpet
In addition to looking great, plush carpet has several other benefits to offer the homeowner. It provides thermal insulation by providing another layer of flooring warmth on chilly days, and it also offers sound insulation. You only have to walk into a luxuriously carpeted room on a chilly day to know this is true. It feels like a warm and quiet oasis.
You can also find carpet which is designed to stand up to the rigors of family life -- children and pets -- while maintaining its great looks. There are also many durable brands that are ideal for high-traffic areas and easy to clean as well.
The Product that Meets Your Needs
The carpets we sell meet those descriptions of luxury, quality, and style completely. Our vast inventory includes products from the biggest names in the business with a variety of styles and materials.
With the support of our friendly and experienced staff, you are sure to find the exact product you were seeking. Our flooring associates work with you to learn about your tastes and the type of product you were considering, whether it was a patterned carpet or a traditional solid color. Not only that, they have the knowledge you need to choose from among all of the various fibers and treatments that carpets come in these days. With their help, you can choose a stain-resistant brand or learn about the qualities of wool carpet or much more.
The Finishing Touches
Once you've settled on the perfect carpet for your home, the next step is having them installed. Proper carpet installation goes a long way toward making your carpet last and look great while doing so. Our installers precisely measure your carpets, so there is little to no waste, and they make sure it fits perfectly. You won't have to worry about unsightly ridges, ripples, or seams that detract from the appearance of your new purchase and cause it to wear irregularly. Next time you search for "carpet near me," you know where to go – Northport Flooring America in Akron, OH!
Contact us to learn more about the wide range of carpet choices we offer. We proudly serve customers in Akron, OH, and the surrounding area.