Tile Flooring in Akron, OH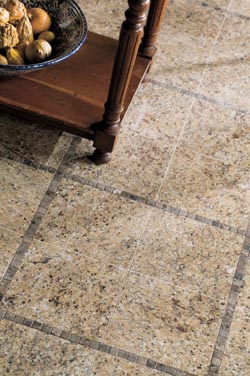 Looking for a terrific flooring option that fits any kind of décor as well as your active family's busy schedule? Purchase tile flooring in Akron, OH. With our showroom that features an endless variety of tile flooring choices, and knowledgeable flooring personnel ready to help you choose and install just the flooring you want, you're sure to find quality tile flooring that meets your specific needs.
Renovate your home or business by upgrading the floors in your rooms. Whether you want ceramic, porcelain, or slate tile, you simply cannot go wrong with floor tiles. Tough enough to handle spills and strong enough to last a lifetime, a tile floor is ideal for any room in the house. Since we are a part of a nationwide chain of flooring stores, we have access to just about any style and color you want at a price you can afford. We offer excellent styles from Floorcraft™, Star Values™, and more!
Durable & Stylish Ceramic Tile Flooring
Add a touch of character and beauty to your rooms with ceramic tile. Perfect for the kitchen, bathroom, and family room, these types of floors are versatile and enduring. They are also excellent for high-traffic areas at your home or business. Ceramic will not dent or scratch when an object is dropped on it. So, it is guaranteed to last a long time.
Depend on us to offer the finest in ceramic tile – everything from hushed hues to colossal colors that are sure to provide a fresh, dazzling look for your home. Our flooring specialists are happy to guide you every step of the way—from selection to installation.
Elegant Porcelain Tile Options
Porcelain tile is especially advantageous because it is non-porous. As a result, it is dense and moisture-resistant. Spills remain on their surface and can be cleaned up easily, making them stain-proof as well. It contributes to the health of your home as also it's resistant to bacteria. And, because porcelain tile can be made to look like granite, slate, marble, or wood, it affords you an endless choice of styles.
An elegant choice for flooring applications, porcelain tile is not only durable but also exceptionally beautiful. Unlike typical porcelain bathroom tiles that line a shower, the tiles are strong. They are also fabricated to look like natural stone and other materials. Let us help you select the right product for your project. Some of the benefits of using porcelain tile include:
Endless variety of styles, sizes, & patterns
Harder & denser than other floors
Easy to maintain
Able to handle heavy traffic areas
Resistant to staining, scratches, & moisture
The staff at our tile flooring store is specially trained to educate you about all of our available floor tile options. Best of all, we are here to help you create your dream flooring by ensuring you will have the porcelain tile floor that you are 100% satisfied with. Our superior porcelain tile flooring is frost-resistant, water-resistant, stylish, and versatile.
Create an Impressive Look with Slate Tile
Have a lot of foot traffic in your home? The hard material of slate tile makes it ideal for high-traffic areas, and if you have a dog or cat, your pet is unlikely to put a scrape or scratch on a wear-resistant slate tile. Best of all, slate is also water-resistant, meaning it works well in rooms with possible moisture issues such as bathrooms, basements, or kitchens.
Go natural by installing slate floors. These stunning flooring products can be placed inside or outside your home to create a truly distinctive look. Slate tile comes in a range of earth tones as well as various styles. Its tough composition makes it an excellent choice if you need a durable floor. It is resistant to scratches, scuffs, and color fading. Even though you should seal it regularly, a slate floor lasts for more than a lifetime.
Tile Flooring Installation Experts
Once you've invested in quality tile flooring, don't settle for unskilled installation contractors who could turn your project into a costly disaster that needs to be repaired or even replaced. Make the right choice by letting one of our certified professionals provide you with reliable tile flooring installation.
Take advantage of our proven installation services so that your floors continue to deliver long after our experienced personnel has completed their work. From grout application to final installation, you can trust our flooring personnel to offer the know-how and skill to ensure your tile flooring provides many years of durability and satisfaction.
After we lay your tile, your customer service experience doesn't stop there. We are so sure that you'll be happy with your new tile floor that we feature an Ultimate Confidence Guarantee. That means if within 30 days of installation you are unsatisfied, we will replace it with another tile floor of equal or lesser value. Also, if for some reason you have any problem in the future that relates to our installation work, we'll fix it at our expense. Next time you search for "tile flooring near me" you know where to go!

Contact us or visit our showroom to view our incredible selection of ceramic floor tile in Akron. We install tile floors in Akron, Cuyahoga Falls, Stow, Hudson, Fairlawn, Bath, Tallmadge, Copley, Richfield, and Uniontown, Ohio.