Tile Flooring in Akron, OH
If you are looking for a terrific flooring option that fits any kind of decor as well as your active family's busy schedule, then look no further than tile flooring. Here at Northport Flooring America, we have a wide selection of tile flooring that our knowledgeable flooring team is ready to help you choose from. We even provide installation services so that you can get the quality tile flooring that is installed perfectly so it will last a lifetime.
Visit our showroom in Akron, OH, to begin your home flooring renovation project. Whether you want ceramic, porcelain, or stone tile, you simply cannot go wrong with a tile from our selection. Tough enough to handle spills and strong enough to last decades, a tile floor is ideal for any room in your home. Since we are a part of a nationwide chain of flooring stores, we have access to just about any style and color of tile you want at a price that is within your budget. We offer tile from the best brands and manufacturers, including Floorcraft, Star Values, and more.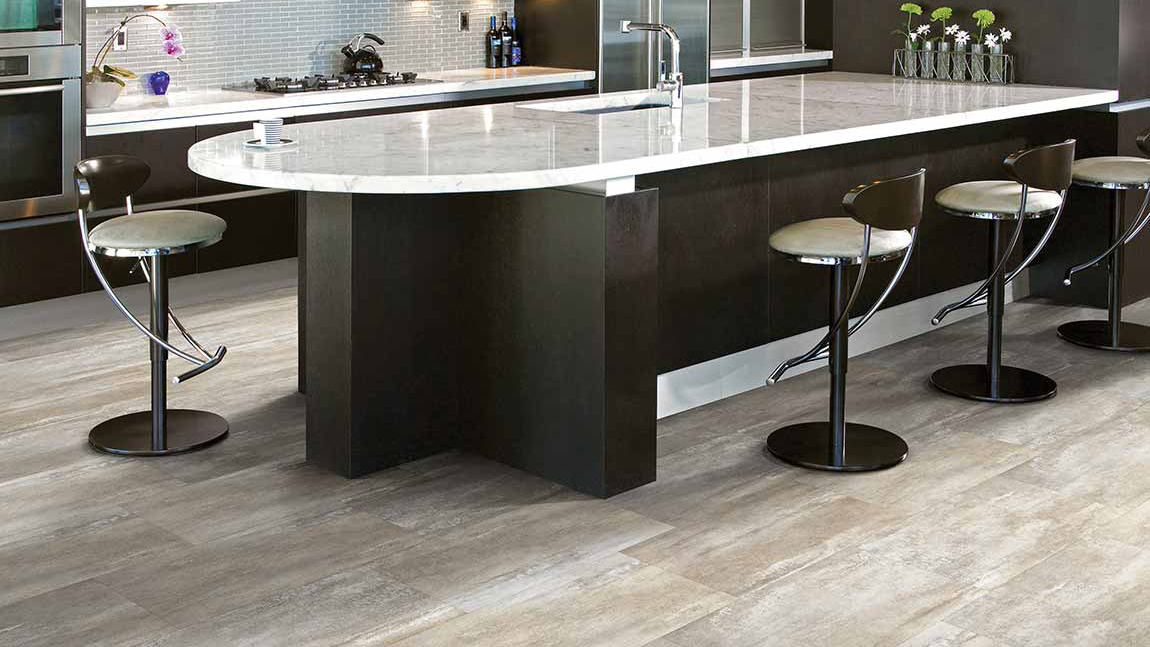 Your Guide to Tile Selections
Ceramic Tile
Ceramic tile is made from clay that has been permanently hardened by fire. This type of tile combines beauty and strength. It is resistant to moisture and scratching, making it durable enough to withstand the wear and tear of daily foot traffic. It can be left either unglazed or glaze-coated once it has cooled. When properly sealed, the surface of ceramic tile is protected against water. This makes it ideal for kitchens and bathrooms.
Porcelain Tile
Porcelain is a type of ceramic that is made from finer, denser clay that is fired at a hotter temperature. The result is an extremely strong, firm tile that is popular for use in bathrooms and kitchens. It resists all types of stains and harm from everyday wear and cleaning solutions. Porcelain tiles can typically be used both indoors and outdoors, which makes this product more adaptable.
Stone Tile
Our stone tile selection is perfect if you are looking for a more rustic or natural design theme. Marble, granite, travertine, and slate are just a few of the raw materials that are used to make our stone tile. Because of its natural strength, stone tile is typically more durable than ceramic and porcelain tiles. It can also add a luxurious feel to any space.
Beautiful Wood-Look Tile
Wood-look tile offers style without any maintenance limitations. This is why we provide a variety of wood-look tile options that give you more ways to get the classic look of natural hardwood floors with the strength of tile. The manufacturing process to create wood-look tile flooring allows this type of tile to mimic the appearance and texture of many hardwood species, such as pine and oak. Wood-look tile has the same rich hues and grains that are found in genuine hardwood. Due to its dense structure, wood-look tile is sturdy and non-shifting. It also will not warp when it comes into contact with moisture. It stands up well against foot traffic, making it a great addition to any room in your home.
Maintaining Your Tile
With proper care and maintenance, your new tile flooring or backsplash will look vibrant for years to come. As one of the strongest choices on the market, tile flooring is extremely resistant to heat, moisture, scratches, and overall daily use. Regular vacuuming and sweeping are necessary, with a weekly damp-mop to remove any dirt and debris that may accumulate. Be sure to consult your floor's warranty before purchasing cleaning products so as not to damage your tile's glaze.
Installation Services for Perfect Tile Flooring
For your convenience, we offer professional tile flooring installation. Homeowners choose to work with our team of professional installers because of their extensive experience, attention to detail, and efficiency. Instead of spending time searching for a local contractor, let us take care of your flooring. We are your one-stop source for all your flooring needs.
From selection to installation, our in-house installers provide much-needed assistance every step of the way to ensure your satisfaction. Every tile flooring installation we take on is performed by experienced professionals with years of industry experience, capable of performing the job promptly. Our installation services are backed by some of the best guarantees in the industry, including our Ultimate Confidence Guarantee. If you are unhappy with your flooring installation, give us a call within 30 days of your installation and we will replace your flooring at no additional cost to you.


Contact us to learn more about our selection of tile flooring. We proudly serve customers in Akron, Cuyahoga Falls, Stow, Hudson, Fairlawn, Bath, Tallmadge, Copley, Richfield, and Uniontown, OH.