Laminate Flooring in Akron, OH
Transform the look of your home with the beautiful look of natural wood or stone flooring at an affordable price from our collection of laminate flooring. At Northport Flooring America, our team is ready to assist you in finding the right style of laminate that fits your needs in performance, budget, and lifestyle. With so many laminate options to choose from, it is easy to become overwhelmed. Rely on the assistance of our experienced design professionals to help make finding the right floor for your project a breeze. Your satisfaction is our number one priority so we will be here to support you throughout your selection process all the way to installation.
When you visit our showroom in Akron, OH, you can peruse our wide selection of laminate. You will find stunning colors, patterns, and designs to fit your unique style. We only carry laminate flooring from the best brands and manufacturers in the industry so that your new laminate floors will be able to withstand the test of time in your home or business. Some of the top-quality brands that you can find in our showroom include:
Armstrong

Mannington

Mohawk

Shaw Floors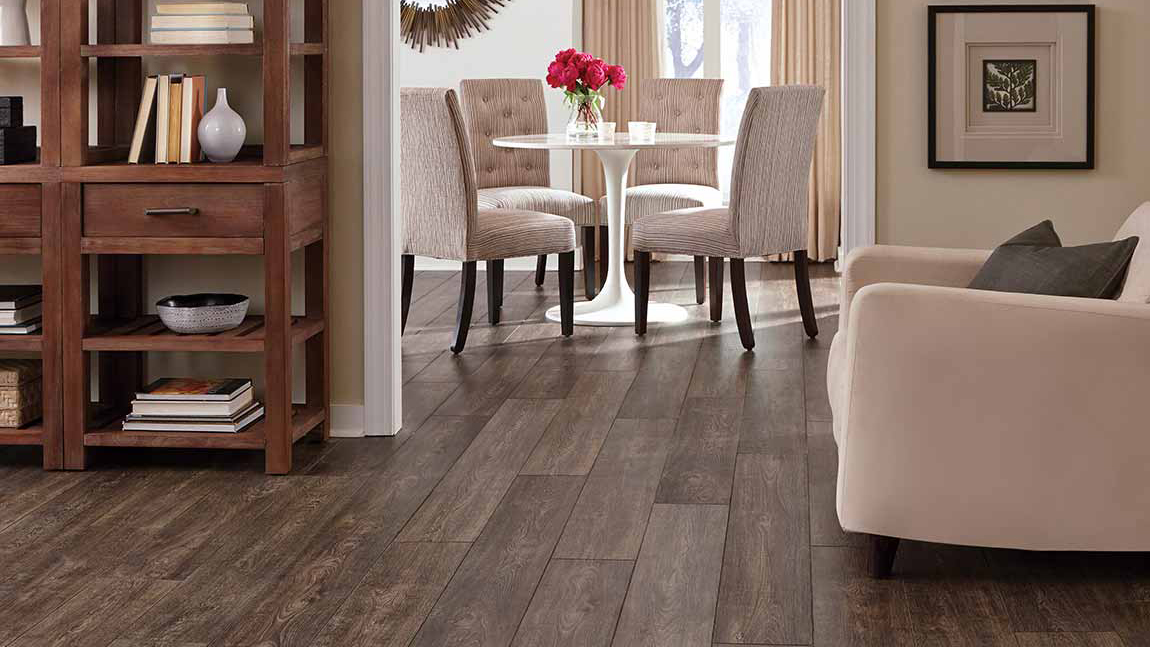 The Laminate Advantage
Laminate is a high-performing material made to look like your favorite floor coverings, such as ceramic, stone, or hardwood. With advances in manufacturing, laminate is able to mimic wood and tile down to the smallest details. This lets you have luxury flooring at cost-effective pricing. When you choose a laminate flooring, you are saving yourself money and still achieving an upscale appearance.
Laminate has a solid appearance and contains four distinct layers. It is manufactured with a base that protects against moisture and a core that is strong enough to withstand even the heaviest of foot traffic. This makes it ideal for active households with children and pets. Laminate's wear layer is typically compounded with melanin resin and aluminum oxide, which are elements that protect your floor from staining and markings. The top layer is decorative, allowing for a variety of different patterns that can realistically mimic your favorite flooring types.
Understanding Laminate Flooring
Using either the direct or high-pressure method, laminate flooring is manufactured to produce a beautiful and resilient flooring for your home. Under the direct-pressure method, all four layers are fused at once. This method produces the most affordable and common types of laminate flooring. With the high-pressure method, individual layers are fused for increased density. This method is popular for commercial spaces where intensive use occurs.
The differences between laminate and other natural flooring alternatives such as vinyl rests in the four layers inside the product. Starting with the core and base layers, these provide density for withstanding foot traffic and placement over your subfloor. Next, the decorative layer allows any image to be applied and replicated with advanced photographic technology. Lastly, the wear layer seals the image and overall flooring from stains and damage.
Types of Laminate Flooring
Laminate Wood Flooring
Change your floors into the hardwood style you have always wanted. Our laminate wood flooring offers all the beauty and elegance of hardwood floors, but with the durable, low-maintenance appeal of laminate. Laminate wood flooring can look just like your favorite hardwood species and this is because what you see when you look at laminate flooring is a high-quality image of a hardwood plank. Laminate has layered construction with a clear coating on top that allows you to see the image of wood beneath. Behind this is a sturdy layer that stabilizes this flooring and a backing layer that resists moisture.
Laminate Tile Flooring
Stone and tile add richness to any living space. Laminate tile flooring replicates the highly desirable appearance of real stone flooring at a lesser cost. Our stunning collections of laminate resemble quarried stone, porcelain, ceramic, glass, and more. Select the floors that resemble your favorite stone or tile, and you'll receive a high-end look without enduring a high-end price.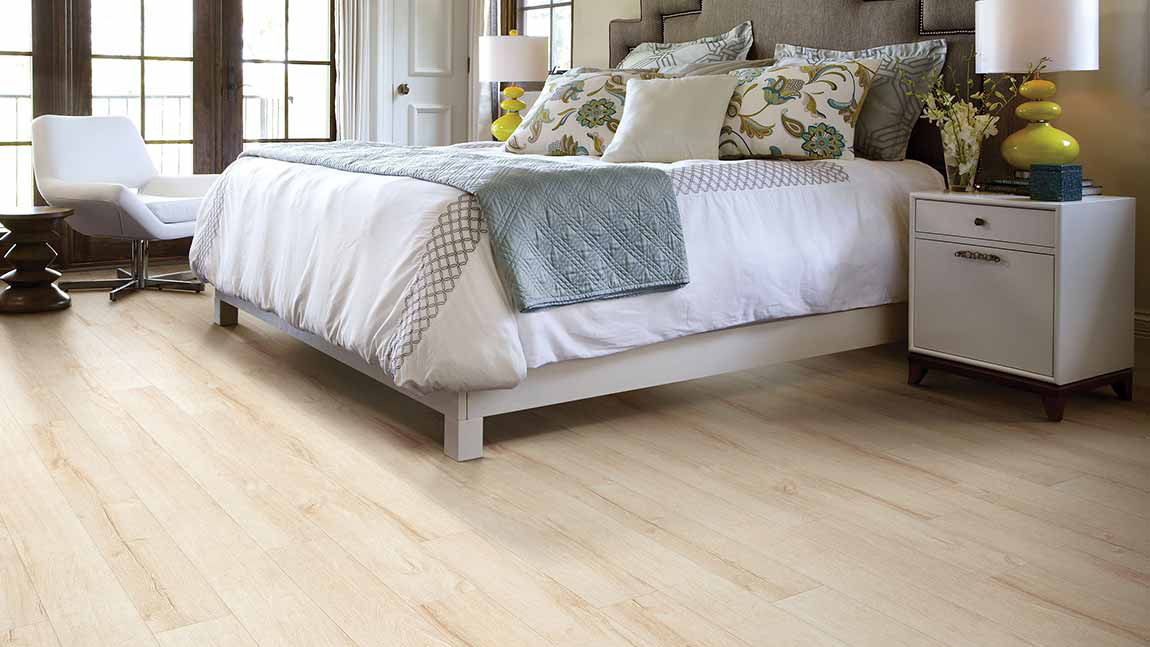 Maintaining Your Laminate Floors
Experience the difference laminate floors can make in your home. In addition to its wide range of colors and finishes, laminate is a low-maintenance flooring material that offers easy upkeep. While other flooring materials require periodic refinishing and touch-ups, this product requires very little of your time, care, and energy. Simply keeping it clear of debris with occasional sweeping and mopping is all you need to extend the look and lifetime of these floors. We recommend using a laminate-cleaning product for best results.
Professional Laminate Flooring Installation
Feel confident that your new floors will withstand the test of time. Once you have selected the laminate flooring that is perfect for you, our expert team of flooring specialists will install your new flooring for you. Our experienced team has the tools and knowledge necessary to quickly and efficiently install your new laminate floor. When you count on us to install your new laminate floors, you never have to worry. Our Ultimate Confidence Guarantee ensures a no-cost repair, should something go wrong following installation. Just give us a call within 30 days of your installation and we will replace your flooring at no additional cost to you.


Contact us to learn more about how laminate flooring can take your design plans to the next level. We proudly serve customers in Akron, Cuyahoga Falls, Stow, Hudson, and Fairlawn, OH.