Add Your Style To Any Room! Tribute™ Paint Collection
Paint in Akron, OH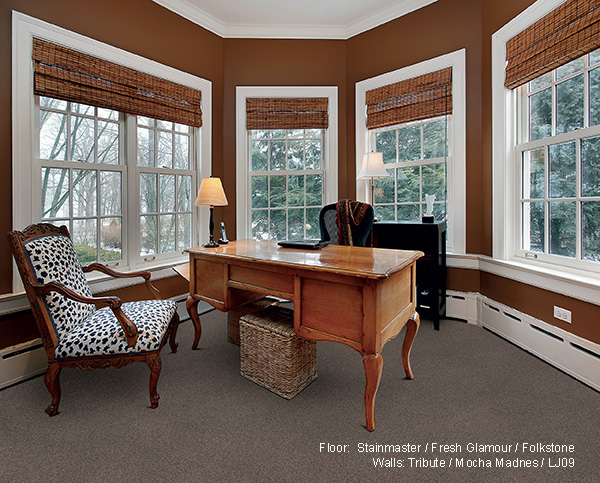 Deciding on the right color of paint for your home can be a difficult decision. When you shop for paint in Akron, OH, at our flooring showroom, we make it much easier. Before you begin your next painting project, visit us for expert advice from our paint professionals. We have the experience and the expertise necessary to guide you toward the perfect paint for every room in your home, so you can be confident that your home will look its best when you work with us.
There are no rules when it comes to deciding which kind of wall paint is best for you. The final decision is dependent on your personal preference and what you hope to create for each room. However, there are some basic guidelines to keep in mind to ensure that your design vision translates properly from concept to completion. Remembering these tips will help when it comes to deciding which type of paint is most suitable for your home. Ask our knowledgeable associates for these helpful suggestions when you're picking out your paint supplies at our store.
We offer professional-grade supplies to get your next project on track for success. Besides choosing vibrant, durable paint, your project's outcome depends on you working with the best available tools. At our showroom, you'll find everything you need to make your walls look their best. Whether you're bringing a wall with aging paint up to date or finishing up new construction, our store has you fully covered. We are your one-stop-solution for:
Industry-Leading Paints
Brushes and Rollers
Roller Covers and Accessories
Painter's Tape
Sandpapers and Abrasives
Drop Cloths and Plastic Sheeting
Patching and Wall Repair Supplies
Caulks and Sealants
Solvents and Removers
Interior Paint Solutions from Start to Finish
When it comes to finding the perfect interior paint colors for each room of your home, your options are virtually limitless. One of the most important features to remember is the paint's finish, which determines both its appearance and the amount of maintenance required to keep it clean.
Flat finish paint, which is also commonly referred to as matte finish, doesn't reflect any light and accordingly features less shine than other types of finish, giving your walls a "flat" appearance. Its smooth coating allows any inconsistencies or imperfections to go unnoticed, even on walls with rough surfaces.
Paint with a flat finish requires a little more maintenance than other types of paint, so it is not ideal for your kitchen, bathroom, or any other room that receives higher amounts of traffic. Flat finish paint is best suited for bedrooms and any other rooms in your home that are low-traffic areas.
Eggshell finish paint, sometimes known as a satin finish, has a more polished look than paints with a flat finish, but without being too shiny. This type of paint is more resistant to stains and requires less maintenance than flat finish paint. It is a great option for use in bathrooms, kitchens, and other areas that are more susceptible to stains due to their high traffic.
For a more personalized look, you may decide to go with a faux-finish or a textured paint job. With these options, you can enjoy such designs as a rougher finish, cheesecloth pattern, or a luxurious, marbled appearance. Texture and imitation are all about technique and proper execution—if you are a beginner, you may want to seek professional help with these styles. Ask us for advice on such techniques as combing, rag rolling, sponging, or which specialized tools are right for the look you want.
Our goal is to make your painting project a rewarding and cost-effective experience. From getting you started with the best paint for the job to offering you the advice and supplies you'll need for a professional-looking finish, we stay with you every step of the way. With our extensive collection of interior house paint, we help you bring your design plans to life. Let us help you reinvigorate your home's walls.
Partnering With A Trusted Paint Brand
Our showroom is proud to offer unique Tribute-brand interior paint. Tribute combines the properties of both paint and primer to deliver a variety of benefits in just one application. With Tribute, you can forget about stains. This paint boasts exceptional stain-blocking properties. Unlike many paints, Tribute is brought to you by the makers of Kilz stain-blocking primers, so you can be confident that your paint job will have a long-lasting, excellent appearance.
By partnering with Kilz to offer you the Tribute collection, we are able to bring our clients the very best in specialty paint. Kilz is known nationally for its commitment to creating products that offer pure, striking colors and reliable coverage.
When you purchase Tribute interior paint, you receive more than just a flawless finish and exceptional quality. You receive the latest in fashionable colors combined with industry-leading stain-blocking and color-retention technologies. Plus, when it comes to your flooring purchase, don't forget about our Lifetime Limited Warranty. This exclusive flooring warranty comes with all of the following benefits for the flooring that is used for your project.
When you purchase flooring from us you receive:
Confidence Plus Warranty: After 30 days, if you don't love your product, we'll replace it. We also pay for any labor needed.
Price Protection Guarantee: Should you find another business selling the same brand and style within 30 days after purchasing a product, we'll refund the difference.
Lifetime Installation Guarantee: Though we're proud of our work, we're more than happy to correct any mistakes or accidents occurring due to installation-related issues.
Locally Owned Advantage: Because we maintain so many convenient locations throughout the country, you and your family will always receive personalized service.

Contact us when you're about to start an interior or exterior painting project. We proudly provide paint for our clients in Stow, Hudson, Fairlawn, Cuyahoga Falls, and Akron, Ohio.